The Sermons of Sister Jane:

Believing the Unbelievable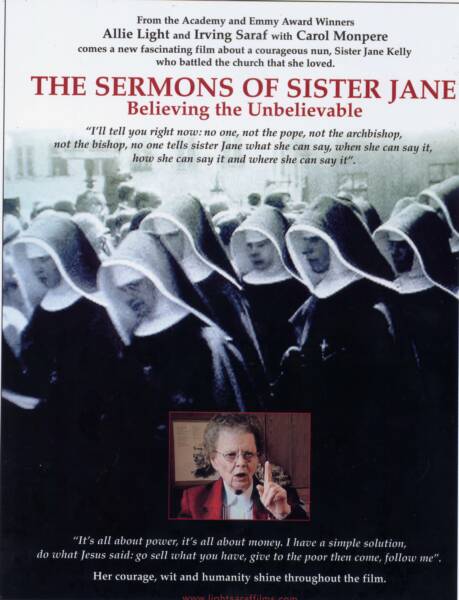 "Our eyes are opened, our ears unplugged and our tongues loose.  And we are going to take a stand because I'll tell you right now: no one, not the pope, not the archbishop, not the bishop, no one tells sister Jane what she can say, when she can say it, how she can say it and where she can say it".

    If all Sister Jane Kelly did with her life was battle the church hierarchy, she would be remembered.  She did more.  A nun for 55 years when she discovered that a priest in her church was molesting young men and stealing from the congregation, she went to the bishop.  When he ignored the evidence, she informed the Vatican.  Cardinal Ratzinger dismissed her letters.  She contacted the press, creating a scandal. These experiences shattered her faith in church dogma, including beliefs about birth control, homosexuality, married priests, women priests and the virgin birth.  Being deeply religious, she impels the Catholic Church to return to egalitarian roots of community and of nurturing the poor.

    "It's all about power, it's all about money.  I have a simple solution, do what Jesus said: go sell what you have, give to the poor then come, follow me".   She founded Plowshares to feed and serve the poor and homeless. Her courage, wit and humanity shine throughout the film. 

    Produced by Academy and Emmy award winning filmmakers, Allie Light and Irving Saraf in partnership with Carol Monpere, winner of the Emmy, Peabody and Dupont-Columbia Awards,
The Sermons of Sister Jane: Believing the Unbelievable
is 53 minutes long and available from
Women Make Movies
Golden Reel Winner

Best Documentary

2007 Tiburon International Film Festival

Official Entry

2007 Dallas Video Festival

Official Entry

Io, Isabella International Film Festival

in Maratea, Southern Italy

Official Entry

2007 Rocky Mountain Women's

Film Festival

Light-Saraf Films

260 Arbor St.  San Francisco, CA 94131  415-584-3521